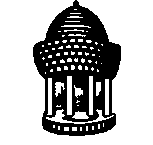 Silver Spring: Then & Again

Anyone who passes through downtown Silver Spring cannot help but be struck by the changes that seem to be occurring everywhere.  With this change comes the inevitable loss of the old.  Sometimes this is all to the good, as in the case of surface parking lots being replaced with much needed commercial establishments.  But sometimes the losses to our community's historic fabric can be disturbing, as was the demolition of the 1927 Silver Spring Armory to be replaced with (yet another!) parking garage.

In Silver Spring: Then & Again you will be able to relive a Silver Spring that you perhaps never knew existed (and might sometimes wish still did).  You might realize that there are pockets of our built environment that have endured and should be better appreciated for the survivors that they have become.  Through the pairing of vintage images from the archives of the Silver Spring Historical Society with their contemporary twins, it is hoped that the visitor to downtown Silver Spring will be able to see "with a third eye" vestiges of our past.

If you have photographs/memorabilia of downtown Silver Spring that you would like to share, please contact the SSHS at sshistory@yahoo.com or PO Box 1160, Silver Spring, MD, 20910.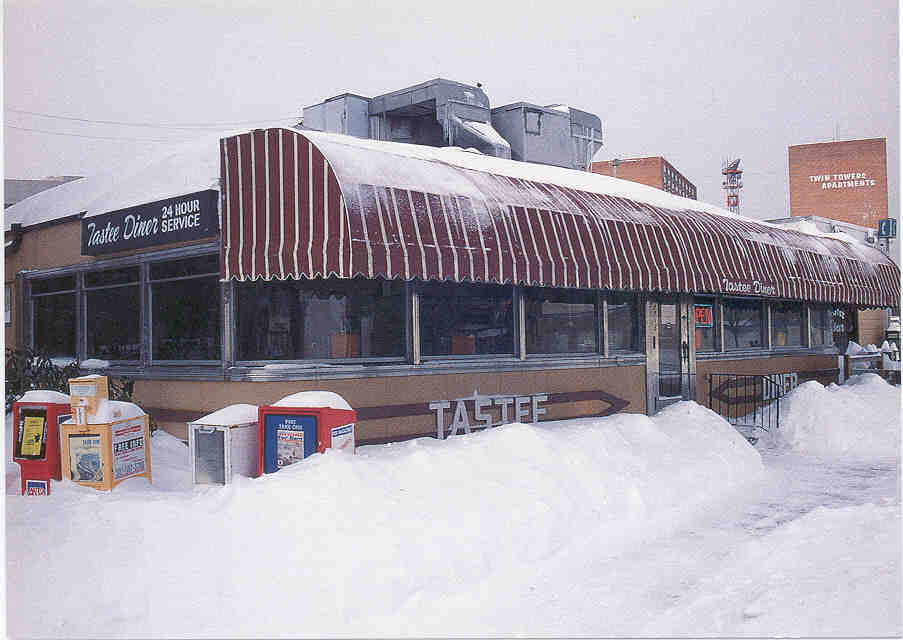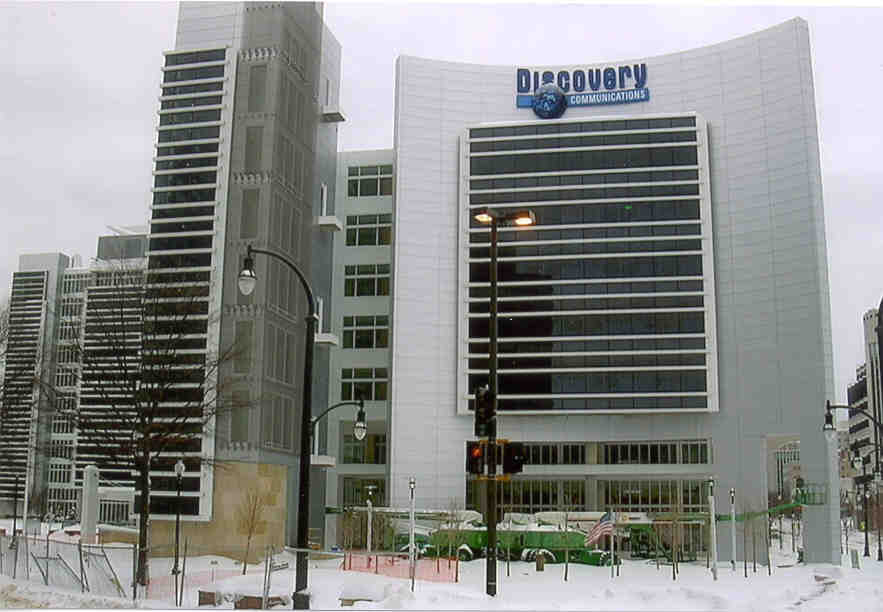 Much has happened on the corner of Georgia and Wayne Avenue over the past seven years.  The photograph on the left shows Silver Spring's venerable Tastee Diner as it appeared on January 9, 1996.  That was the day after 17.1" of snow had fallen over the preceding three days.  Throughout the storm, Tastee stood by its "24 Hour Service" creed, serving lots of food and coffee when just about everything else in downtown Silver Spring was shuttered. 


The diner occupied 8516 Georgia Avenue since 1946 and was pre-fabricated in Elizabeth, NJ by the then-renowned Jerry O'Mahony Inc.  A classic example of commercial Art Deco/Modern architecture, the diner was designated a Montgomery County Historic Landmark in 1994.  In anticipation of construction of the world headquarters of Discovery Communications Inc., Tastee was ceremoniously transported to its new location at 8601 Cameron Street on June 17, 2000.  Anyone who was there that rainy day will fondly recall the site of the diner being s-l-o-w-l-y pulled up Georgia Avenue preceded by a police escort. 

So memorable was the event it became the basis for a "Zippy the Pinhead" comic strip that appeared in Sunday newspapers nationwide on October 22, 2000 (don't go looking for it in the Washington Post because Zippy does not run in the Sunday editionto view the strip on-line visit http://www.zippythepinhead.com/pages/aadinerarticle2.html).  The 1996 photograph of Tastee was utilized in the strip with one unseen character asking another "What happens when Starbucks buys the land they're (diners) on?" The response was, "They just pick up and move!"  It wasn't Starbucks that bought the land that Tastee occupied for over half a century but the media conglomerate Discovery Communications, Inc. for the site of their world headquarters. 

The photograph on the right shows the same corner taken on February 17, 2003, the day after the first snowstorm of the 21st century that dumped an amazing 25" on Silver Spring.  "One Discovery Place" is a massive L-shaped structure occupying the area bounded by Georgia Avenue, Colesville Road, Ramsey and Wayne Avenue.  At 150,000 square feet, the $160 million headquarters will house more than 1,200 employees who have already started to move in.  One of the earliest tenants to arrive was "Stan," a life-size reproduction of a Tyrannosaurus rex that occupies the main lobby, staring out onto Georgia Avenue as if ready to pounce upon a passing Ride-On bus.  Also featured there is a Rube Goldberg-like art installation that features scores of rolling balls that fall, bounce, click, clack, ring a bell, get knocked about by a gorillawell, you have to see it to understand it. 

Considering that the headquarters was intentionally designed without a cafeteria as a way to encourage employees to patronize local restaurants, and considering the generously-sized plaza that occupies the footprint of where Tastee stood, wouldn't it have been something if the building's architectural firm SmithGroup had just incorporated Tastee into the project's design?  Then all of Discovery's employees wouldn't have had to walk far for a Cheeseburger Royale!
Photo copyright 1996 Jerry A. McCoy

Photo copyright 2003 Jerry A. McCoy